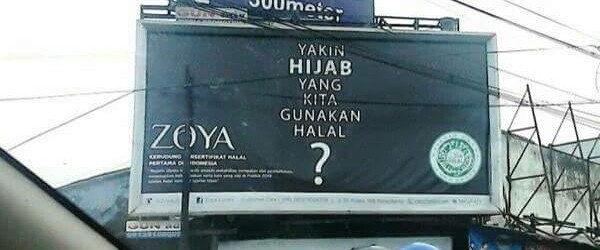 Earlier this month, the appearance of Indonesia's first halal-certified hijab, sold and promoted by Indonesian fashion company
Zoya
, provoked equal parts protest and support. According to the certification given by the Indonesian Ulama Council (MUI), Zoya's hijabs are 'halal' because the fabrics are produced with the use of only plant-based emulsifiers, and not those made from pig gelatin. Zoya has also erected a billboard in a few major towns with the tagline "Are you sure that your hijab is halal?"
Online, some responded with incredulous sarcasm. Some said that if the fabric for hijabs had to be halal, then every article of clothing (
including underwear
) had to be halal as well. Others pointed out that if there were 'halal hijabs', then,
there must necessarily be 'haram hijabs'
existing from the beginning of time until Zoya. Some questioned if the halal certification would not be completely unnecessary after washing the hijab, especially before wearing it for the first time? And some contended that many women, after their umrah and haj, still buy abaayas made in China, which are more likely to be washed with pig gelatin-based emulsifiers.
A hijab that is clearly 'halal', while its competitors are not, is
an example of strong product differentiation
. Instagram celebrity and hijabi blogger
Fifi Alvianto sees this 'halal hijab' as a marketing tactic
. She explains, "In the religion [Islam] there hasn't been discussions on halal fabrics, at least not as clearly as halal food." However, Zoya's creative director
Sigit Endroyono said that their intention was only to help consumers feel confident
and at peace with their hijabs. "As sellers, we are responsible for our customers' tranquility. We try to fulfil the right of our customers by ensuring the permissibility of our clothes and headscarves."
Despite these non-pecuniary motivations, the company's sales manager
Chandra Rahmad, admitted that the controversy surrounding their 'halal hijab'
has resulted in an "unintentional" but "extraordinary increase" in the sales of Zoya's products.
Zoya has since retracted their advertisements
on Instagram, as well as all but one billboard, and apologised in a press meeting.
It is perhaps not a surprise that Zoya chose to embark on such an aggressive marketing campaign, especially in the light of the recent introduction of a
hijab and abaya collection from Dolce and Gabbana
. This comes after several years of one-off and
aurah
-friendly Ramadan collections from
DKNY
,
Tommy Hilfiger
, and
Oscar de la Renta caftans
. Even more affordable brands like
Uniqlo
and
Mango
have kept up.
I appreciate the critical response from certain segments of Indonesian society. While there were certainly people who bought Zoya's hijabs after they were certified halal, there were also others that spoke out against the absurdity of ensuring that hijabs — a non-consumable — were also halal.
Hijab designer Rani Hatta admits to being confused
by the halal certification for hijab fabrics, "I thought all along that clothes that cover
the aurah
, are loose-fitting and don't show the shape of the body could be worn." Famous Indonesian designer
Dian Pelangi also echoes Rani's opinion
, "Cosmetics and beauty products are absorbed into the skin, so we need to make sure that the products we use are halal."
However, I do feel disappointed that none of the critics mentioned fair trade or ethical working practices play a role in determining whether a fabric is 'halal' or not. The director of MUI's department of Food, Medicines and Cosmetics Research (LPPOM)
Lukmanul Hakim clarified that the Zoya brand is not halal as a whole — just its fabric
. He mentions other processes but unfortunately, his discourse remains at the superficial material level and does not go deeper to address social practices, "Zoya claims its [hijabs] to be halal […] They say that it's because they use halal materials. But doesn't fabric need to be sewn? Is their thread halal too? We don't know that yet."
MUI's head of Halal Information
Farid Mahmud said that there are now many companies that submit applications for halal certification
. Companies that produce shoes, belts, paper and even social organisations have applied:
"Some laundromats provide soap and water that are guaranteed to not contain 'najis' [ritual impurities]. The biggest paper factory in Indonesia also submitted an application because their paper is used for printing Qur'ans […] Consumers just want to make sure that although not for eating, these materials are not contaminated with najis. Producers consider it as an obligation in accordance with Islamic law."
In the production of cotton for example, there are several political issues related to 'halal' we could choose to educate ourselves on, such as Genetically Modified (GM) cotton reduces biodiversity; intensive farming uses pesticides, insecticides and fertilisers;
cotton-picking in some countries like Uzbekistan is still done by hand and allegedly by children
; textile processing uses high amounts of water and energy. Meanwhile, many synthetic fabrics are non-biodegradable and use harmful chemicals during processing.
Elsewhere
I have written that the Qur'an encourages us to do 'good works' instead of committing abuse and oppression
when eating or drinking — which we could reasonably extend to whatever else we consume."[…] the source of our food and drink is important – it must not cause pollution or destruction of natural habitats, and it must not be produced by underpaid or exploited workers."
The controversy of a 'halal hijab' has opened a discussion into what makes a thing halal or not. Unfortunately it seems that for Indonesia at least, Muslim discursive circles on 'halal' have yet to intersect with social justice discourses on fair trade, organic farming or sustainability.
All quotes have been translated from Bahasa Indonesia.